Preface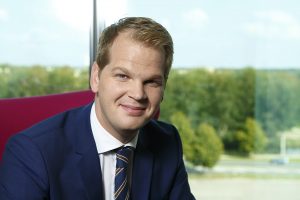 Welcome to De Vaart & Buitenvaart
Welcome to the largest business park in Almere! De Vaart offers a wide range of activity: from small start-ups in the Mac3park, its entrepreneurial breeding ground, to many internationally operating companies. You will see many a business of sound reputation in this special edition of De Wegwijzer. This first edition is devoted entirely to one of Almere's business parks. It beautifully complements the Wegwijzers for Haven, Buiten, and Poort: as industriousness is woven into the fabric of this city's identity. After all, we have plenty of space in Almere.
Spatially, De Vaart fits well with the Buiten borough it neighbours on: a beautiful, polder-like borough. Plenty of space, in other words, combined with attention for green structures in between and along the Business Park. And the good news is that we still have many plots to allocate, both to new companies in Almere and companies that are ready to upsize. It is good to know that the Business Circle of Almere is also active in De Vaart so that jointly, we can keep the business park safe and up to date.
To me, the greenhouse area in De Buitenvaart is rather special. It started out as overflow for horticulturalists who had to make way for the Olympic village that was planned in Amsterdam. Like many other horticultural areas, De Buitenvaart has weathered economic storms. Still, many business owners managed to keep their head above water with a mix of cultivation and storage facilities. The flowers they cultivate are sold the world over, and they supply the local market with vegetables. Our city council has designated De Buitenvaart as a green and sustainable greenhouse area, where we like to focus as much as possible on the correlation between greenhouses and contemporary challenges. One example is the 2022 Floriade and the road towards it, GrowingGreenCities. Although the link with Floriade is obvious for ornamental plants, local food, whether organic or not, can also be an excellent showcase.
In addition, De Buitenvaart borders directly on the access to the Oostvaardersplassen lake area, which has become known as a unique part of the Netherlands with its wild horses and variety of bird species. With increasing visitor numbers, we are faced with a fine challenge to determine which economic and other facilities should be made available in the years to come.
We hope you enjoy this special Wegwijzer,
Mark Pol
Alderman for Economic Affairs